This week I had the pleasure of talking to Olha Lypnytska from the PushPushGo development department.
They presented me with the projects they work on, and I had the opportunity to test their service.
Let's start with the beginning.
What is PushPushGO?

PushPushGo is a platform for sending automatic web push notifications.
What does a web push notification look like?
Here's a visual representation:

I am convinced that you have already seen them implemented at top online stores.
Now why would you implement that?
According to E-goi:
Push notifications have an opening rate of 90%
Their opening rate is 50% higher than that of email marketing
The click rate is 7 times higher than that of email marketing
70% feel that push notifications are useful
55% to 60% of app users agree to receive push notifications
53% share their location
52% look for relevant information and offers in the push notifications they receive
40% interact with push notifications within 1 hour of receiving them
After all this data, it should be clear that push notifications are gaining a lot of ground in the digital marketing world.
So, back to the platform.
PushpushGo Platform
As soon as you sign up you are greeted with a mini tutorial in which you explain the platform.


On the left we have the set of tools very easily explained what each does.


The first step is to create the project we want to implement push notification.
After I added the site link you are greeted with 2 ways of implementation.


If you choose the simple method of implementation all you have to do is copy that script on your site.
That's it.
In 3 minutes you have implemented a new marketing solution on your website.
After that you can create a campaign by clicking "Send Campaign".


There are 2 types of campaigns that you can create Push or ABX Test Push. Abx is a method by which you can test 2 similar campaigns and see which one is more effective.
I chose the classic push notification and I managed, I'm not kidding, in less than 2 minutes to create a campaign.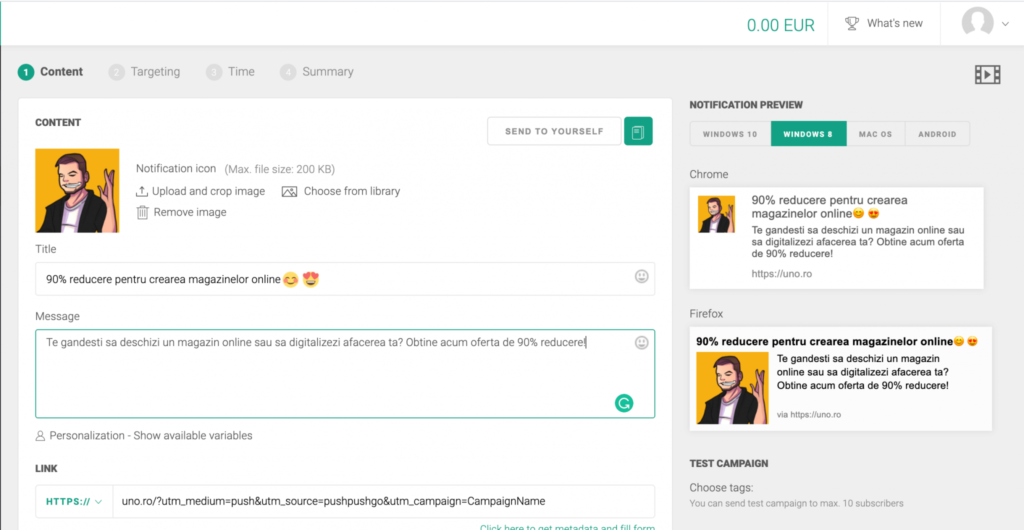 You can see in real time how the notification will look on Windows 10 and 8, MacOS and Android.
Besides that you can target a certain segment and set the time to send the notification.
Automation
The best part is that you can automate the whole process.
You can create scenarios for situations such as "when a user leaves products in the shopping cart" or " when a user joins your list of subscribers"


If you are an agency you will receive a dedicated manager Account where you can take care of all the technical aspects of your clients (automation configuration, segmentation etc)
Price
These are the price plans that PushPushGo has.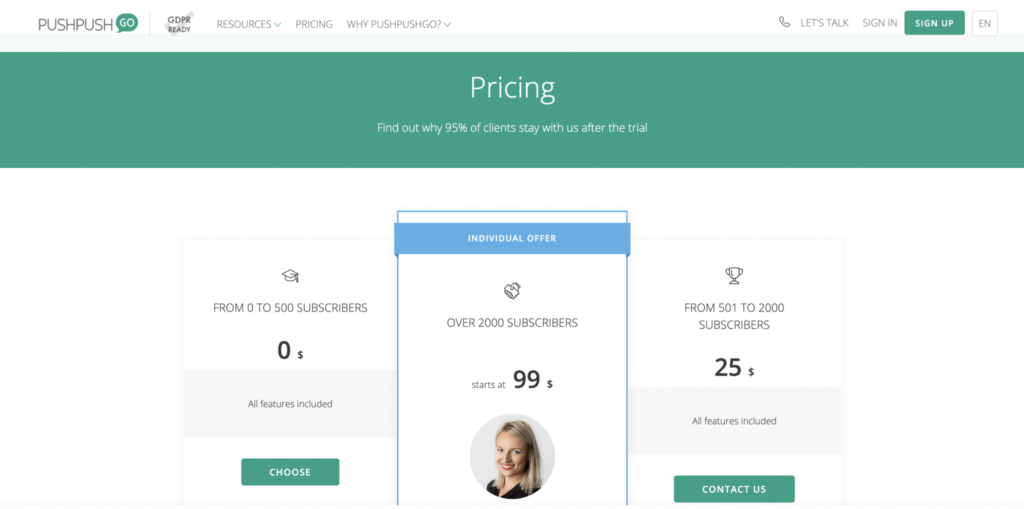 I find it brilliant that you don't have to pay anything up to 500 subscribers.
You can use all the tools without any limitation until you reach the barrier of 500 subscribers.
And in our case because we are B2B, the collection of subscribers is somewhat slower, so we can use all the options for free until we reach the 500.
As for customers, PushPushGo already have in their portfolio names such as FashionUp Romania, Unicredit Bank Serbia and Vodafone Italy.
Conclusion
I like that the platform was developed with a focus on automation, segmentation and customization.
The platform is so simple to use that you do not need intense programming knowledge.
Basically, if you have an online store you can test this form of marketing, free and in less than 5 minutes.
Aaa, and another thing, the tool is GDPR Ready, so you do not have to worry about it.
If you want to implement this solution on your online store, give me a message 🙂
Have a nice week!