Because I started this YouTube channel, and because I have at least 6 more websites to run, I need to produce content on a daily basis.
And this can be stressful, worrying about what you will produce today, or tomorrow—constantly brainstorming for new ideas.
Plus, Benjamin Franklin once said, "By failing to prepare, you are preparing to fail."
But there is a solution to relieve all that stress: content plan.
A content plan is such a time saver. It gives you a clear goal for the week and a sense of direction.
What I will do today with you guys is:
research new ways to create a content plan
create a content calendar template that I will share it with you guys
Let's start.
How can I create a content plan?
The first thing I wanted to do was to see if theirs a new way, a better way to plan content.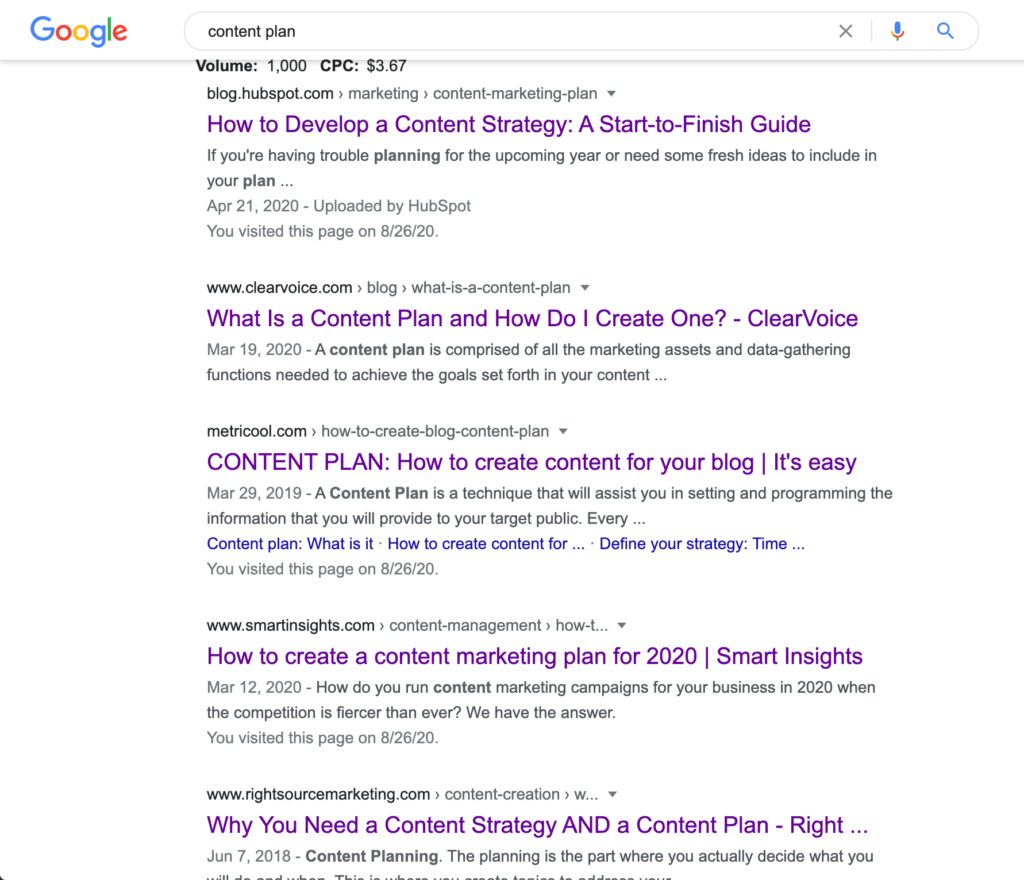 After reading at least 10 articles from top-ranked websites, the answer is no; the principles are still the same.
Set your goals and measure them.
Decide the type of content you will produce.
Create a content calendar.
Basically : plan, create, share, measure and repeat.
And that's your content marketing strategy, right there :))
Let's define togheter all this points.
1. Set your goals and measure them.
A good starting point is to define your mission.
To define your mission for your own business, try this:
I provide [target audience] with [type of content] to help them [business goals]
For example in my case:
I provide internet marketers with videos to help them grow their online revenue.
Once we know our mission it's time to define goals and measure them.
The best way to achieve goals is to make them specific and measurable.
For example a goal can be:
Get 500 subscribers to my newsletter with 20 pieces of content.
or even
Write 20.000 words in a month.
2. Decide the type of content you will produce
There are a lot of options out there and you have to make a choice.
Now, you don't have to pick one and create only that type of content; you can mix them. But, usually, you should have one primary type of content and 2 secondary's.
Don't try all types, first because you will get burnout pretty fast and second, you want people to know you for something and associate you with that thing.
Here is a list with the best Types of Content Marketing you can use:
Videos
Blog posts
Social media
Podcasts
Ebooks
Bonus: Case studies, Infographics.
Videos
Videos, in my opinion, should be a priority. Especially in 2021, take a look at the estimated ad spending for videos in the next years.


Videos are highly engaging content, and with the raise of Tiktok, it's very clear you should start producing videos.
Blog posts
If you already do videos, you can transform that video into a blog post. Learn how to optimize your articles, and that can give free organic traffic in a few months.
Articles should provide valuable content for your audience. I recommend to have between 1000 to 1500 words in length, but you should always test to see what works best for your audience.
Social media
With social media, you need to create and post constantly. I know that from raising an Instagram page to 46.000 followers.



As you can see from graphs, once I stopped posting my followers went down a lot.
One tactic that I learned from Gary V is to repurpose my content.
So, if you created a video for YouTube, you take that video and repurpose it for IGTV. Take the audio from the video and transform it into a Podcast.
And then you can take that video and transform it into a blog post. You can take that blog post and post it to Facebook and so on.
Take the audio from the Video and transform it to a Podcast.
Adapt every piece of the content to the platform.
If you are still reading this, go and subscribe to my mail list to receive posts like this weekly.
Another form of content you can create is Infographics, Study Case, and Ebooks. I recommend creating an ebook once you have an audience.
Let's get to the last part, which is:
3. Create a content plan calendar. 
As I said in the beginning, a content calendar gives you a clear goal for the week and a sense of direction.
It's one of the primary element in a content marketing strategy.
There are several ways to do this.
For example, you can use Google Calendar and simply put the due dates for each piece of content there. That works pretty well, especially if you're not publishing a lot of content.
Another tool you can use is Trello. Here is a template for content planner.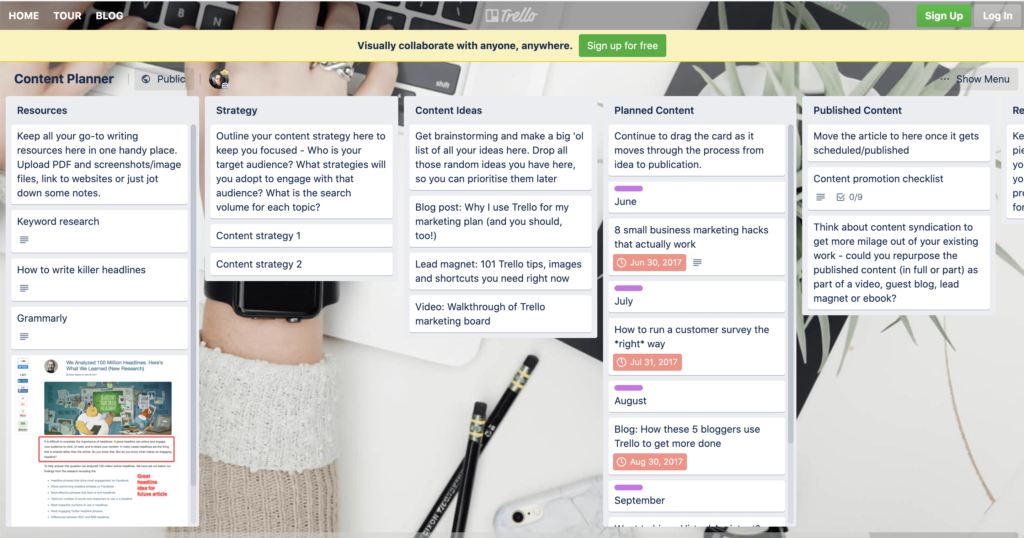 What I use is Google Spreadsheets.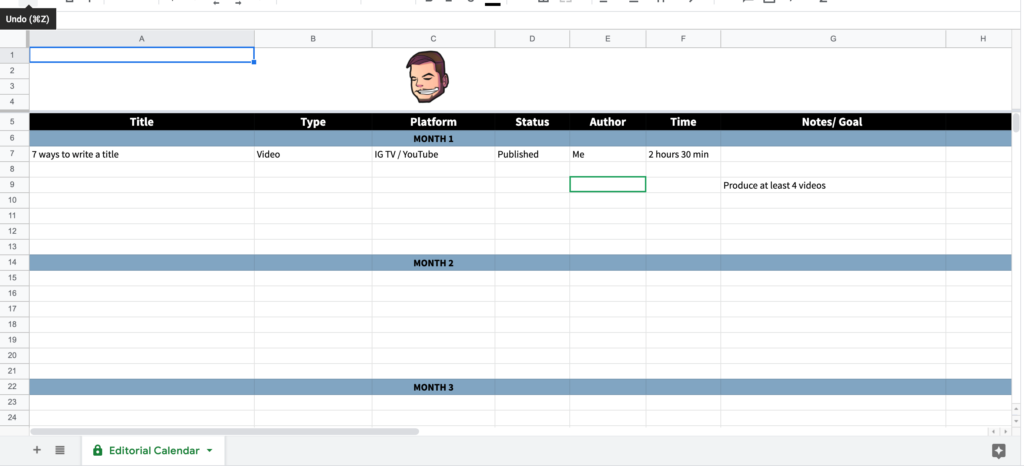 And here I have the template that I use. You can download it for free.
Conclusion
As you've seen, there's a lot of preparation work in your content marketing strategy before you actually create a piece of content.
Now when everything is set, it's time to create the content.
With the research you've already done, you'll have an idea of what type of content to create.
After you publish all the content you create leave it for at least 3 months and then measure the results.
How many subscribers you gained after posting that content? What about revenue?
I personally like to measure the impact of my content after 6 months. Especially if it's a blog post, they tend to rank after 6 months depending on your authority.
Check my 1 million dollar journey and make money online methods.
I wish you good luck!