Hey guys! I hope you are all safe and well.
From now on, I will call every update an episode and every year a season. Today we have episode 17 because I have 16 updates to this day. And Season 0 because I like to think this is just the preparation, the plan, etc.
2021 will be the start of season 1 🙂
Episode 17
This month I am starting to see all those hours I spent during lockdown to write content.
For the:
Domain Digital Agency
This month we hit 12 months since I am working for this website. One year! Happy Birthday!
The plan for the next 12 months is to invest in backlinks.
I already started with a 155$ dollars backlink :). I am tracking all my costs using Google Planner.
Total word count = 102,866
I hit 100k this month and I released this content marketing study case.
Which means from now on, I will post two articles per month. 
The Youtube Channel for this website has ten videos and 40 subscribers. The plan is not to give up till I hit 100 videos.
Here is a screenshot from Google Analytics


Organic Traffic/ per month = 721 (+300 since last month)
And here is a screenshot from Google Search Console for the last three months.



As you can see, the website is growing naturally without any crazy spikes. I am hoping to give it a boost in 6 months after I am creating those backlinks.
Domain Men
A happy experiment for me. When I started this website, I had no plan to grow it as I have now. I just had a writer who owns me 30.000 words, and I said, okay, let's build a new website, and that's how I started :))
With basically 0 research, just for fun.
This month:
Month 6
Total word count = 58,145 (+8.000 words since last month)
I plan to add 10.000 words each month. I am a bit behind, but this will change from 2021.



Traffic/ per month = 700 (+400 since last month)
The bounce rate is too high. I am looking for ways to decrease it. If you guys have any tips, that would be awesome 🙂
Domain Travel
This month:
I created two pages (homepage +about us) custom design using Elementor for authority.
I made my first backlinks.
Added content
Month 6
Total word count= 39.593 (+6,883 words)
Organic Traffic/per month= 1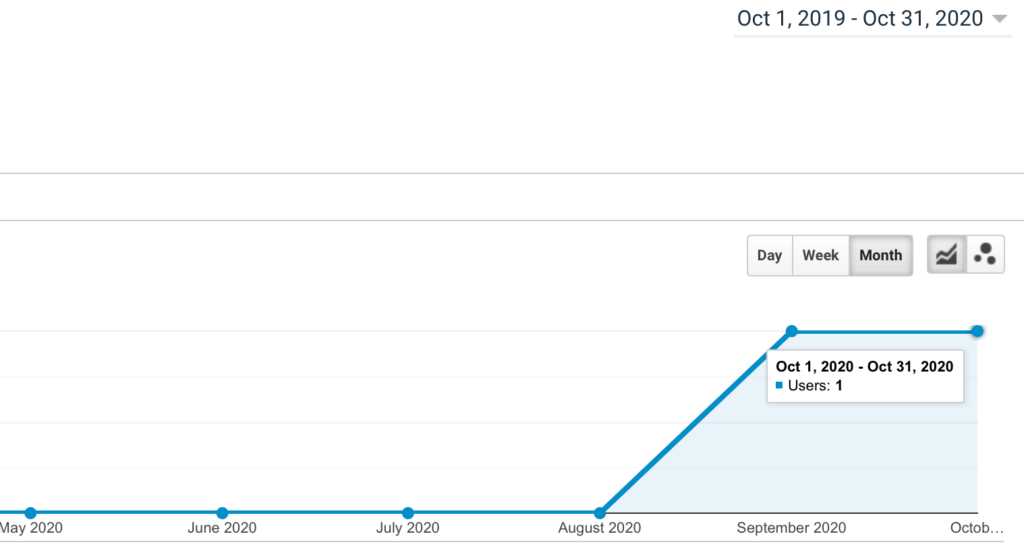 The traffic is still 0, strange! It could be the fact that this niche is highly competitive or it got affected by this period, or it could be both hehe
Domain Outdoor
Month 5
Total word count= 29.921 (no change, no articles added)
Organic Traffic/per month= 56



The organic traffic is improving even though I don't do anything on this domain…
Thanks for completing this episode! See you next month 🙂