I build my first website when I was 16.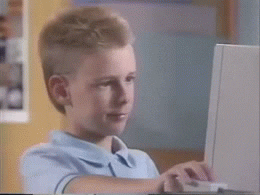 Back then, it was enough to spam your keyword in the content, and you would rank on the first page.
10 years later, the SEO game changed a lot. Now everyone is talking about backlinks and quality content.
It's time to put this myth on a test and see if you really need backlinks to rank or quality content is enough?
And that's what I did with a fresh domain for 10 months straight.
In this content marketing study case, I will share everything I learned from this experiment and some interesting results.
So stay till the end!
Let's start!
Content Marketing study case
The idea behind this experiment is simple: produce 100.000 words of content in 10 months and see what happens 🙂
It's been 10 months since I started this journey, and today I completed 100.000 words for this website. Which is an equivalent of 6 hours and 51 minutes of reading time.



I believe this is something that anyone can achieve! It's not something extreme, I've seen people who write 100k in a month.
The website
This experiment was done on a fresh domain with 0 history, 0 DA, 0 PA to see conclusive results and data. I had 0 authority and no backlinks.
The CMS I used was WordPress and a paid theme that my team and I customized a bit to fit my needs.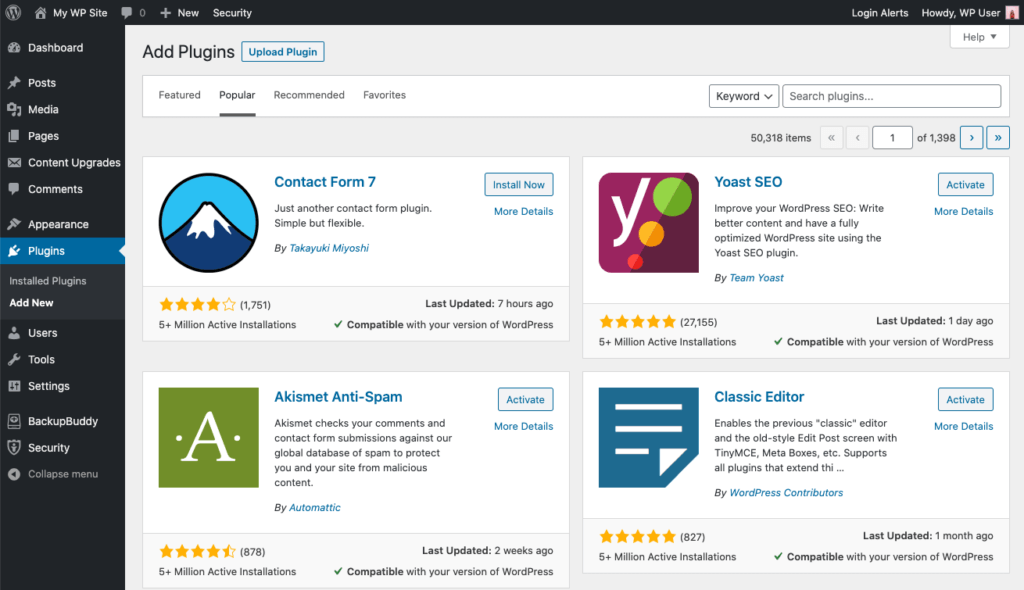 The plugins I used are:
Akismet anti-spam,
Asset CleanUp Pro: Page Speed Booster,
WPBakery, Read Meter,
MC4WP: Mailchimp for WordPress,
Contact Form 7,
Updraft,
WP Fastest Cache,
WP Word Count,
Yoast SEO Premium.
The content
The average length for an article is 1081 words. I wrote articles with 4100 words and articles with 700 words.
If I can't produce at least 500 words on a topic I don't do it.
The overall subject I choose is easy to write about. Because it is my expertise, and that's what I recommend, don't write about something you have no idea about.
The research part will take a lot of time, plus it won't be fun.
Process and tools
Before writing any words you have to research the keywords you plan to rank for. If no one is searching for that topic, you write for ghosts, no one will read your stories. (trust me, the blog era is dead)
To research keywords and ranking difficulty I used: Ahrefs and whatsmyserp (free version extension on chrome).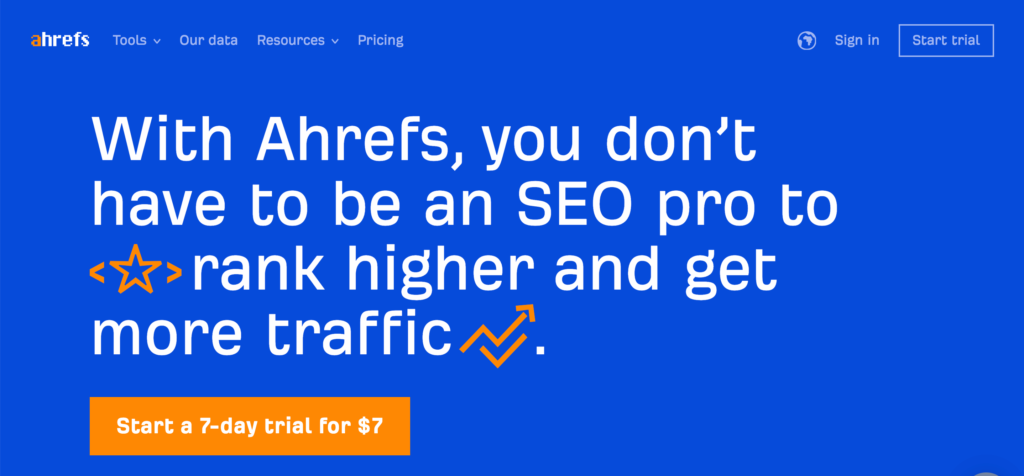 If you don't have 99$ per month you can use the free trial, 7 days is more than enough to create a content list for an entire year.
My criteria to find long tail keywords that I can rank was:
Minimum search volume 50
Maximum 10 backlinks (position 1-3)
An irrelevant subject for the keyword intent
old/outdated article ranking in 1-3 position
If one or better all the conditions are met I add that keyword to the list. Then, I added titles/subjects to my content planner.
This is an example of how my content planner looked like: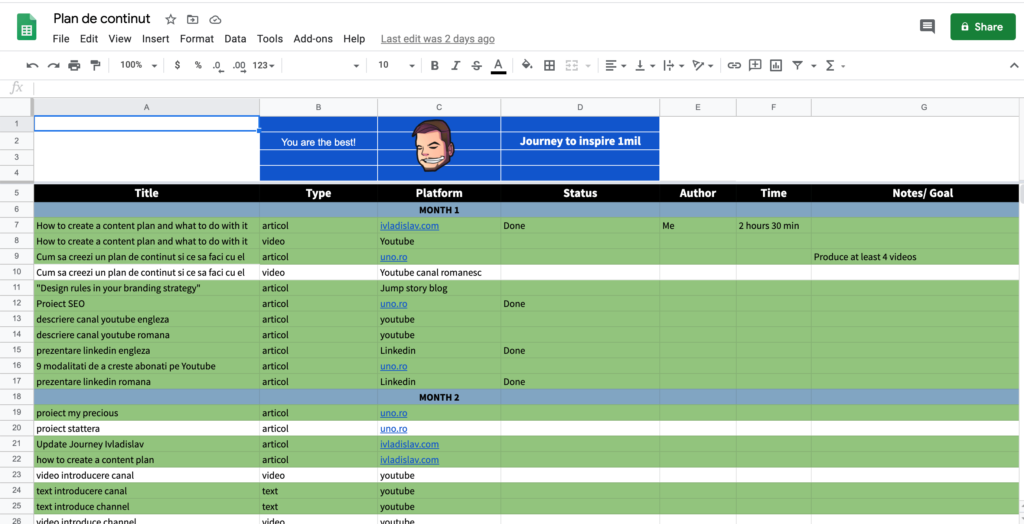 The most productive period of the year for me was during the lockdown when I wrote like a monster 🙂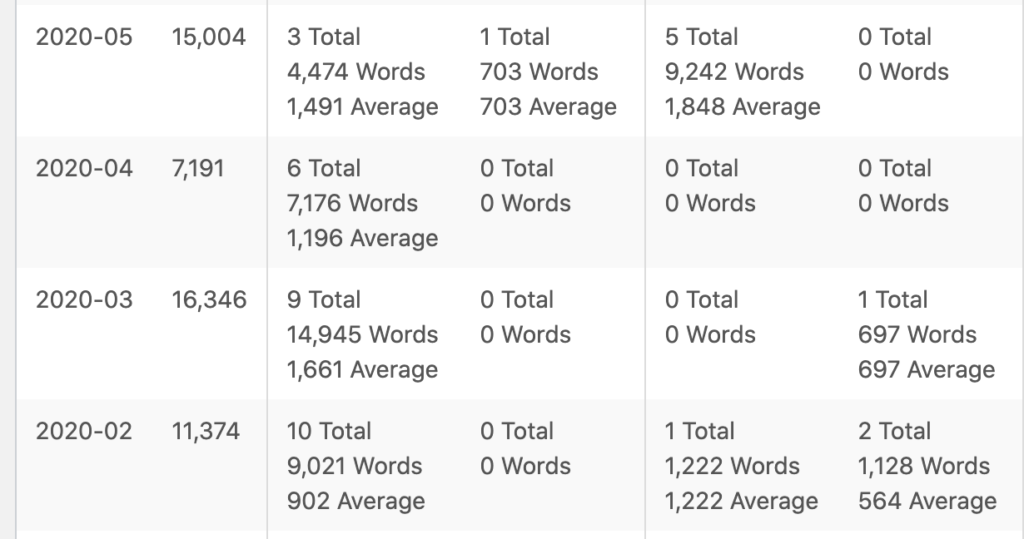 You can see in 4 months I wrote 49.915 words.
50k in 4 months, and keep in mind that I have 6 more websites to manage, but for those, I have writers to take care of my content :D.
To collect emails I used MailChimp, but I am thinking to switch to ActiveCampaign because I heard so many good things about it.
Now let's talk about On Page SEO.
On Page Optimization
On-page SEO is the practice of optimizing content for search engines and users. Common on-page SEO practices include optimizing title tags, content, internal links and URLs.
All the content is optimized for:
User experience
Bounce Rate and Dwell Time
Search Intent
Page loading speed
The content structure is very well optimized (H1, H2, and H3). Every blog post has a good keyword frequency and external links to help Google figure out the page's topic.
I optimized URL structure (something I neglected in the past). It's very easy to do it:
Make your URLs short.
Include a keyword in every URL.
Seriously. That's it.
I used unique, keyword-rich meta descriptions.
Last but not least, optimize your images. You want to give every image on your site a descriptive filename and alt text.
To rank you want to make sure that the content :
Satisfies Search Intent
Is Valuable
and easy to read (use lists, images, and supporting material as much as possible)
In terms of speed I managed to hit these marks:
Page Size < 800KB
Fully loaded time < 2.4 Seconds
40 total requests or less
400 ms response time from the server or less
You can test your page for free using Google PageSpeed Inshights.
Last but not least, Author Biography. This section helps your website to build trust and authority in your content and brand.
Make sure you have one on your website! Include achievements that build credibility or are interesting to the reader.
Results
Here is the interesting part 🙂 After all that hard work, we want to see the results, right?
Well here you have it.
Organic Traffic
Here is a screenshot from Google Analytics: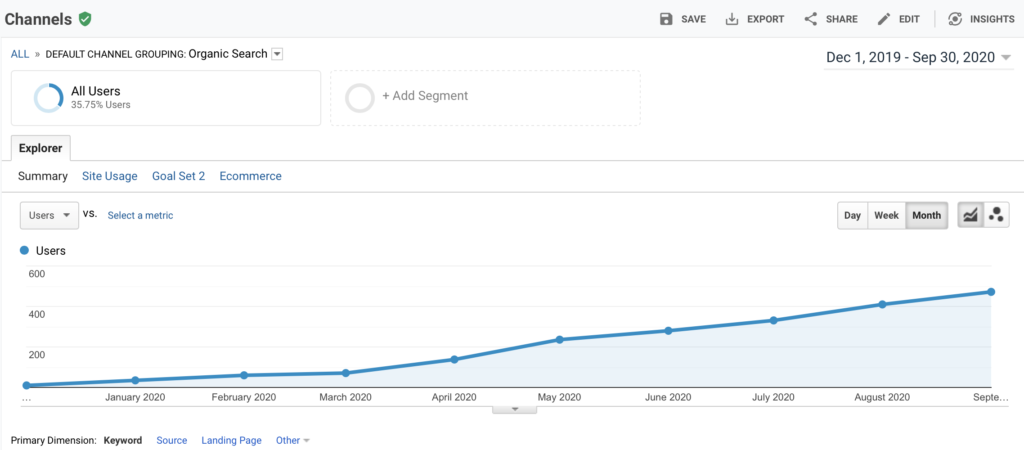 Organic traffic grew from 0 (December) per month to 472 (September) per month.
That's 35.75% of the total traffic.


We are only in the tenth month, and I know from Ahrefs that it takes 1-3 years for an article to rank in the top 10 results on average.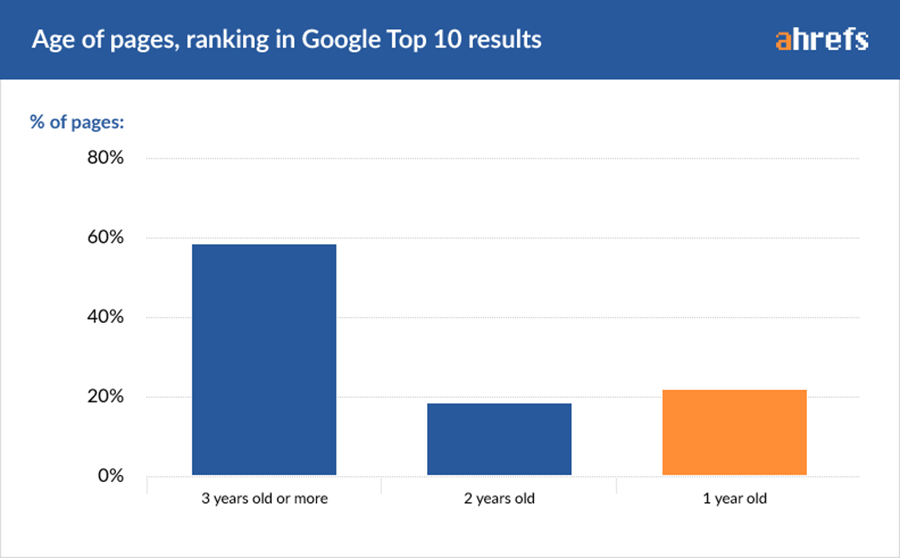 And that means we will see the real results of this experiment in 24 months. I will make sure to update this study case every 2 months.
Bear in mind that this growth was made with 0 manually created backlinks!!!
What's even crazier, some of the pages ranked on positions 2 and 3, and we got some natural backlinks.
The domain rating raised from 0 to 21 according to Ahrefs.



Google Search Console
Let's take a look at Google Search Console now.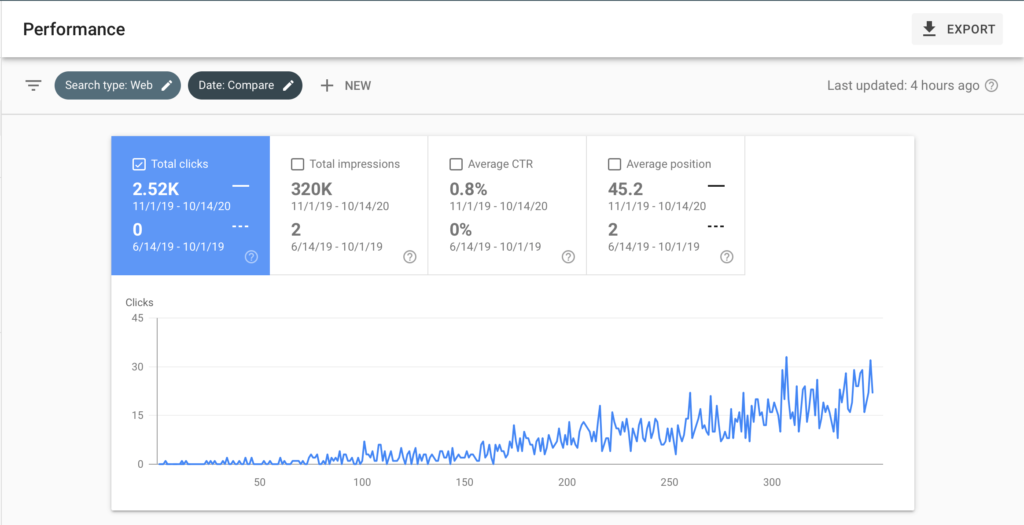 Ohhh yeah, that's what I am talking about, 2500+ highly targeted people ready to consume, inform and buy. Over 320.000 impressions with an average position of 45.2.
Yes, you can achieve higher numbers in a general niche like Lifestyle, Fashion, Pet, etc., but then the message would be harder to communicate on such diverse traffic.
Google indexed 113 and excluded 276 pages.
The index rate is not that great, I am looking to improve it in the future.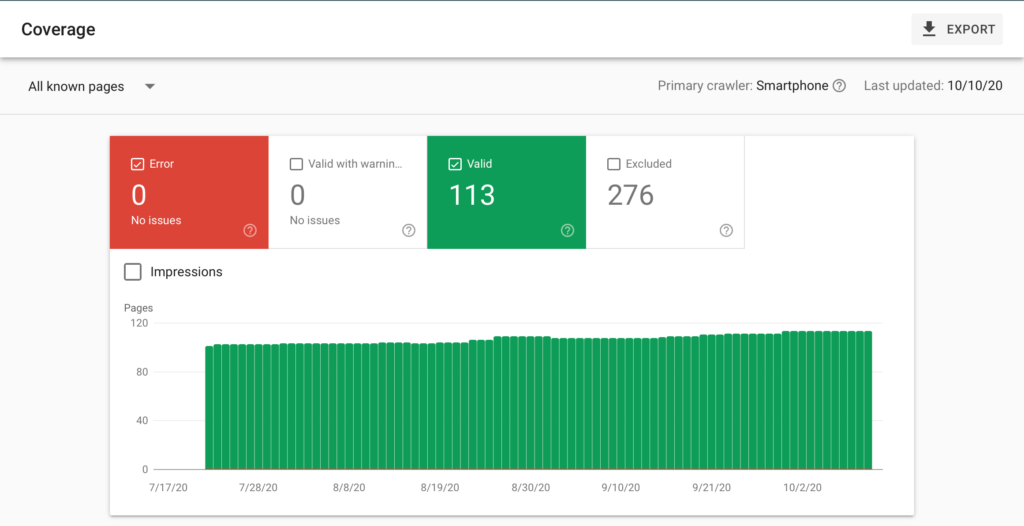 Ohh, and after the announcement of Google releasing the Page experience update, make sure you have this in your GSC: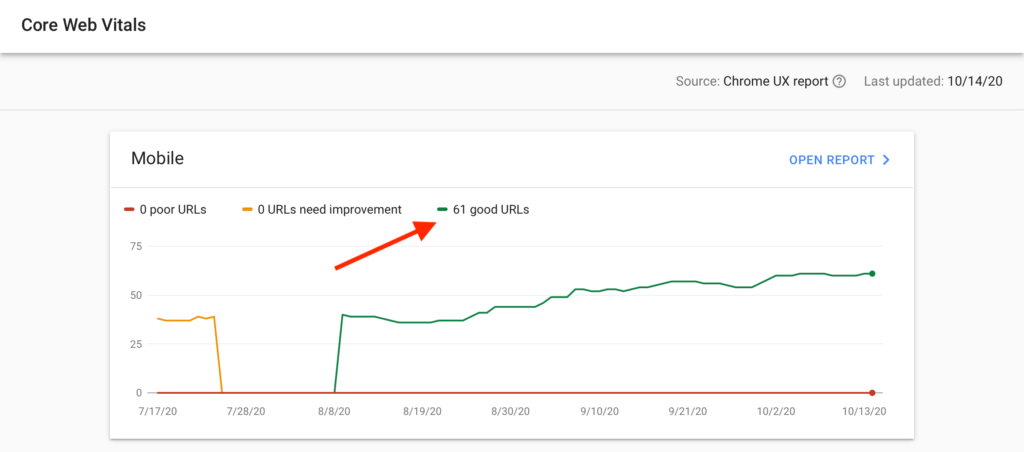 All URLs are good for mobile and desktop. You will find this option under the Core Web Vitals menu.
Email Marketing and Revenue
What interests us at the end of the day are conversions.
How many people actually care about us? Did they interact with our content? How many bought from us?
Here is a screenshot of my audience from Mailchimp:



Out of 2500 people who visited my website from search engines, 120 subscribed to my newsletter, which is a 4.8 % conversion rate. (keep in mind that I didn't collect emails from the start 🙁 )
Sure, this conversion rate can be a lot higher if I offered them something in return for their email. (and that's what I plan to do next 🙂
And I am not talking about the generic "here, give me your email I will send you a newsletter every week".
No.
I am talking about really offering something valuable, it could be:
a 10.000 words free ebook full of informations,
a video tutorial on how to ...
Things like this make your visitor to interact with your content and ultimately buy from you.
Moving on, here are the interaction after my first email campaign.



That's 10 people who clicked on my link, 3 people who bought a product and one instant call 🙂
What could be done better
My first and biggest mistake was: I didn't count all the leads coming from this website.
Their is an old saying "you can't improve what you don't measure".
This means I don't know my conversion rate, didn't had any KPIS.
When you do things randomly you just float around hoping to catch something.
More than that I wasn't collecting emails from the start, and I didn't had a funnel.
Make sure you set up all these things before you starting your journey 🙂
What's next
Here is how I plan to scale the website and make more money.
I am working on understanding better what's my customer journey. This will lead to creating an effective sales funnel.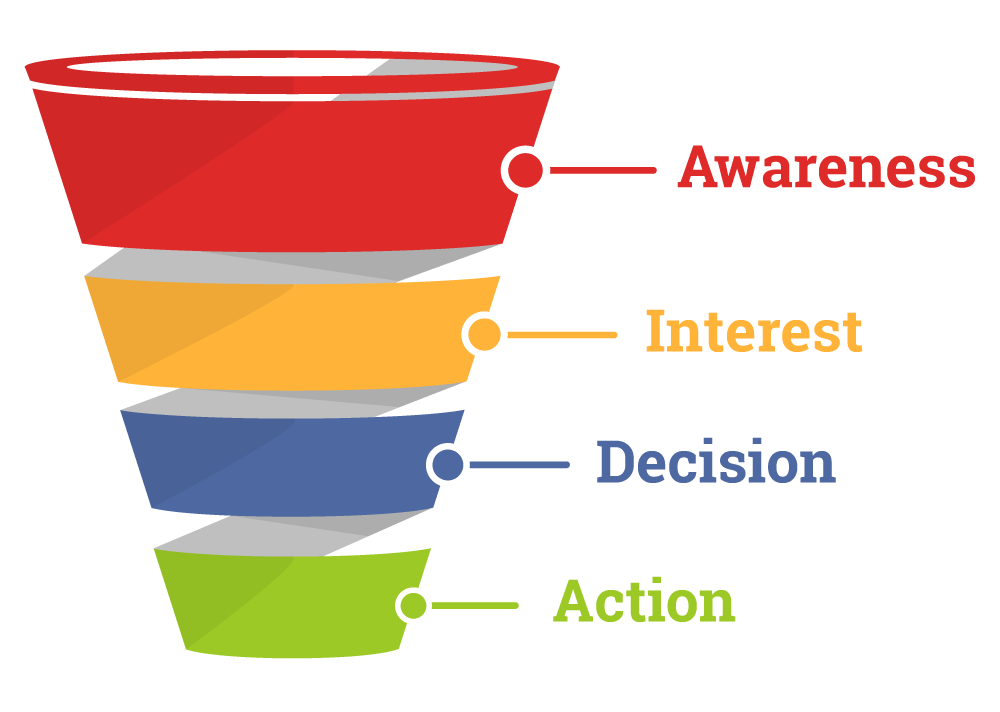 The only way to improve your online revenue without hiring 100 sales guys is by setting up a sales funnel.
Once I have that in place, I will unify my traffic sources into the sales funnel and scale.
If you manage to customize the visitor experience as much as possible you will have success, and that leads me to another thing I am looking to implement : chat bots.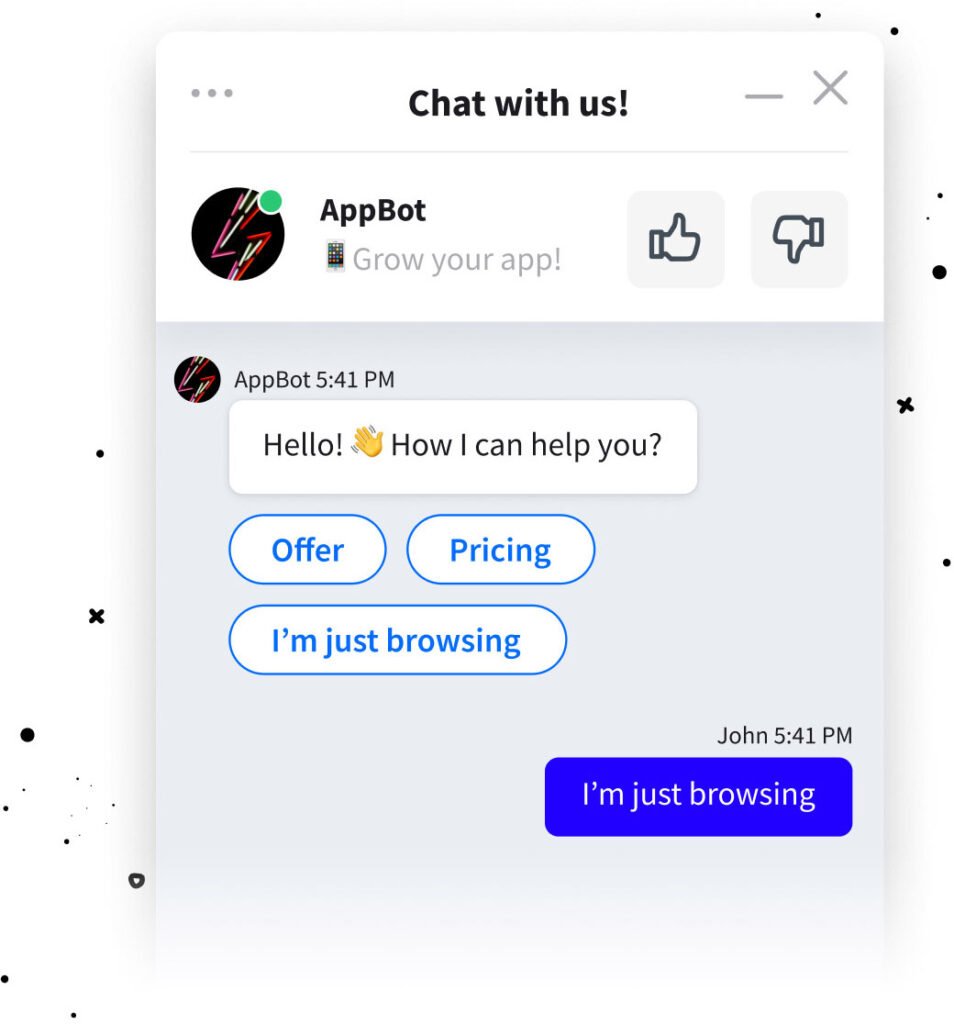 Live Chat bots with logical jumps that creates your experience based on your choices. It's a sales funnel, but instant 🙂
After implementing these I will check Google Search Console, get a list of top 5 article that brings the most traffic and put a custom banner on each page.
My conclusion from the content marketing study case
What I learned from this content marketing study case is that you can rank and have success with less than 100$ to invest. (ahrefs free trial, hosting and domain)
Of course, this takes time and effort, but eventually, good content will always win. Content created for humans, not search engine bots.
I am not saying you shouldn't use backlinks (you will need them eventually), they are very good if you want to scale or you want to achieve results faster. But just so you know, you can start without them. Just be patient and produce epic content.
Another important thing is to measure everything. If you have metrics, you will know your next step and where to improve.
I am planning to update this study case with new results once we hit 12 months, 18 and 36 🙂
If you want to check more interesting content from me, I am doing a 1 million dollar journey, the page where I am documenting my online income.
Now, it's your turn.
Tell me what did you find interesting from this content marketing study case? What would you like to know more about?
Write me in the comments or give me a personal email 🙂