Animation is a long and meticulous process, let alone talk about 3D Animation.
In this industry, hundreds of hours are spent working for just a few minutes of footage. This is why creators have to choose the best 3D animation software available on the market. Computer animation is the digital successor to stop motion techniques.
By getting accommodated to a certain software, the workflow gets better and better. This will result in less time spent on production and also the chance of starting a new project earlier.
Computer-generated animations have become the number one choice for creators, big and small alike because they are more controllable than other types.
A single graphic artist can now create props, pieces, or whole sceneries by himself. These valuable assets could cost a small fortune if they were required to be physically bought.
Further, I will present to you the best 3D animation software around, with pros and cons, and also some great bonus insight and free software. With all this being said, keep in mind that in some margin, subjectivity might place a program bit higher or lower for some other persons.
What Is the Best 3D animation Software?
1.Autodesk Maya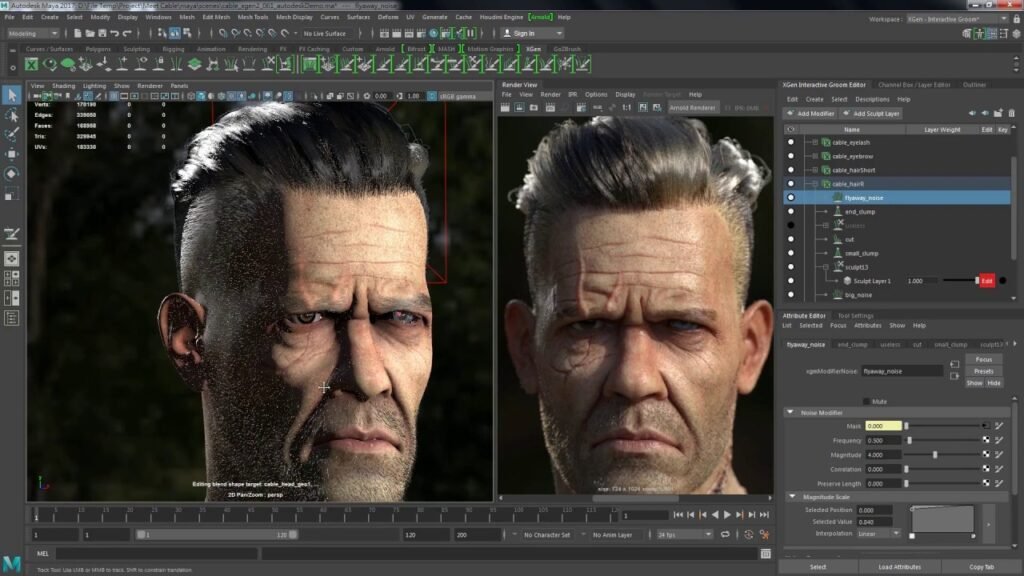 This software is built and developed by Alias Systems Corporation. It enables the users to create fully detailed 3D environments.
Usually, its best use is for model and design pieces. It has an advantage when it comes to creating more complexly detailed renders. Scenes can be put together or kept separate. After finishing the creative process, the product can be exported for further use with other programs.
Maya is very reliable when it comes to creating organic-like shapes and textures. Simulating effects, shading, creating UV, and, of course, animating, are some other key functions.
Most of the time, setting up a character rig is a headache, but Maya successfully relieves the user from this task by creating a sophisticated skinned and weighted rig that is can readily be animated.
Key features:
Dynamic use of effects.
Realistic clumping effects in hair.
Realistic weather effects.
Deep adaptive liquid simulation.
Cached playback.
Animation Bookmarks.
Pros:
An all-in-one package when it comes to modeling, animation, and rendering for static images and animations.
Very simple to use interface.
Easy to create complex animations by using Time Editor, Graph Editor, and others.
The python API is simple and stable. It can create scripts and plugins with ease.
Lots of free or paid plugins on the internet.
Helps the workflow through its node-based system.
Cons:
Bad viewport.
Needs more helpful tools.
Modeling sections lack depth, especially for topology.
Arguably, a bit pricey.
2.Cinema 4D R20


This software is known for enabling the creation of marvelous architectural, manufacturing, artistic, and gaming renders. The company has a long history and is regarded as a classic.
Beginners and professionals alike are able to find value in Cinema 4D. A wide range of tools and features are the flagships that bring in creators. The most specialized particularity of this program is fast-paced 3D production.
Clever mechanics are thoughtfully inserted throughout the workflow of the UI. For example, tracking mouse movements as position data, choosing between forwards and inverse kinematics, and other features.
Not to mention the fact that now live footage can seamlessly be integrated with the 3D animated objects.
Key features:
Each variant is streamlined for a specific function.
Lots of functionality.
Procedural and polygonal modeling.
It has a built in render farm called Team Render.
The use of irradiance cache will make renders be closer to true global illumination.
Easy to integrate with After Effects.
Pros:
Easy to use.
Good rigging, animation, and lighting.
It can create wonderful textures.
It is extremely stable.
Cons:
It is quite costly at around $700.
New variants also cost more money.
The workflow might feel a little behind its competitors.
Bodypainting and UV are lacking features.
3.Autodesk 3DS Max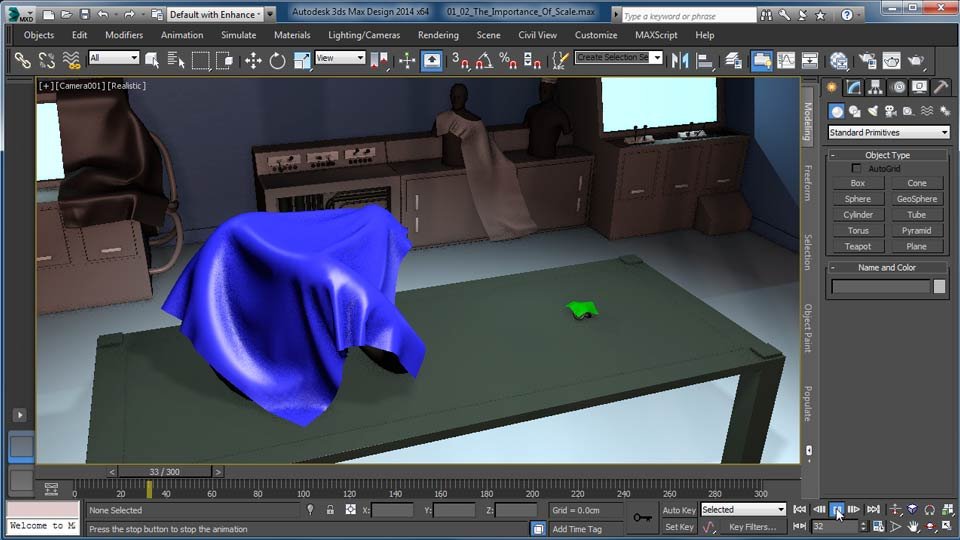 If you need a 3D modeling and rendering software, Autodesk 3DS Max is capable of offering a large variety of approaches to the work at hand.
Design visualization, video games, and animation can easily be produced with it. The toolset available is flexible and might save creators a lot of time in the long run.
For example, tools like "Populate" can fill up and control scenes with crowds of people in a seamless way. Data is displayed separately, each track having its own motion data for the body shown on screen. Instant feedback has an important role in the whole
Key features:
Intuitive ways of creating and animating geometry.
Enhanced spline tools.
Open shading language support.
Material, texture, and color editor.
It can be used to create mesh and surface modeling.
Precise designs are achievable through a weighted normal calculator.
Pros:
Great realistic fluids.
Hundreds of plugins are readily available.
Complex particle flow effects.
Really great for giving life to a visual idea.
Overall simple and precise tools.
Cons:
Unfortunately, it can only be bought as a subscription and not an one-time payment.
Sometimes it might overwhelm the user with too many features.
4.Zbrush 2020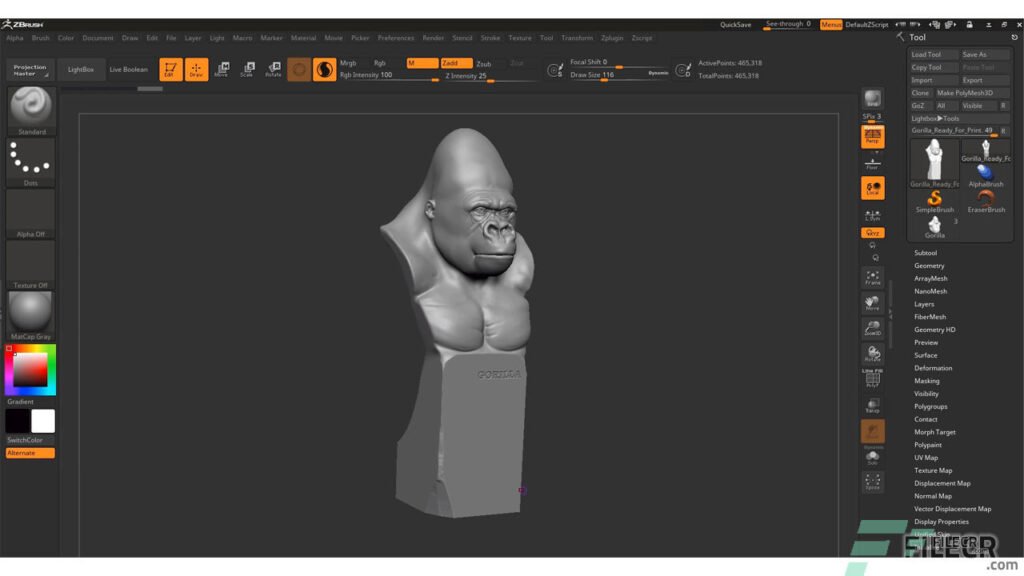 When it comes to Zbrush 2020, it is all about the brushes. This is an overall 3D design tool that has specialized building blocks called pixols.
These are similar to pixels and have X and Y coordinates, as well as color information. The catch here is that since they are 3D, they also got a Z coordinate, and material information also.
This brings out an artistic functionality that cannot be met up by many other programs around. With all this being said, it's good to know that the main purpose of Zbrush is artistic sculpting.
Key features:
Proprietary building blocks that enable Z axis and material information.
Detailed XTractor brushes.
Undoing certain model parts without damaging the rest of the creation.
Highly customizable textures and colors.
Works great with 3D printers.
Pros:
Excellent for 3D sculpting.
It has an arsenal of tools.
Can handle a huge polygon count.
Customizable brushes.
A large and active community.
Benefits from free upgrades from time to time.
Cons:
It might take some time to get used to the UI.
The camera system might be a bit confusing.
Very specific usage.
5.Autodesk MotionBuilder


MotionBuilder specializes in quality 3D character animation. A selling point is the fact that it comes with lots of prebuilt moves that just have to be adjusted according to your needs.
The characters can be placed in fully interactive environments. This software is suitable both for animators and directors as well.
Here, keyframe animation is combined with motion capture. Projects exported from this program are especially suitable for video game development and animated movies.
Finetuning is allowed to the smallest detail. The AI of the software helps creators with smoothing out movements and transitions between files. Every step of the process is non destructive, so the files will also be kept intact in the original form.
Key features:
Has a real-time 3D engine that enables realistic movement.
Easy movement manipulation.
Great interoperability with other 3D applications.
Pros:
One of the fastest animation tools around.
Supports facial and skeletal animation.
Enables work with motion capture devices.
Makes use of ragdoll physics.
A non-linear editing system.
Cons:
The community around it is quite small.
No free updates.
6.iClone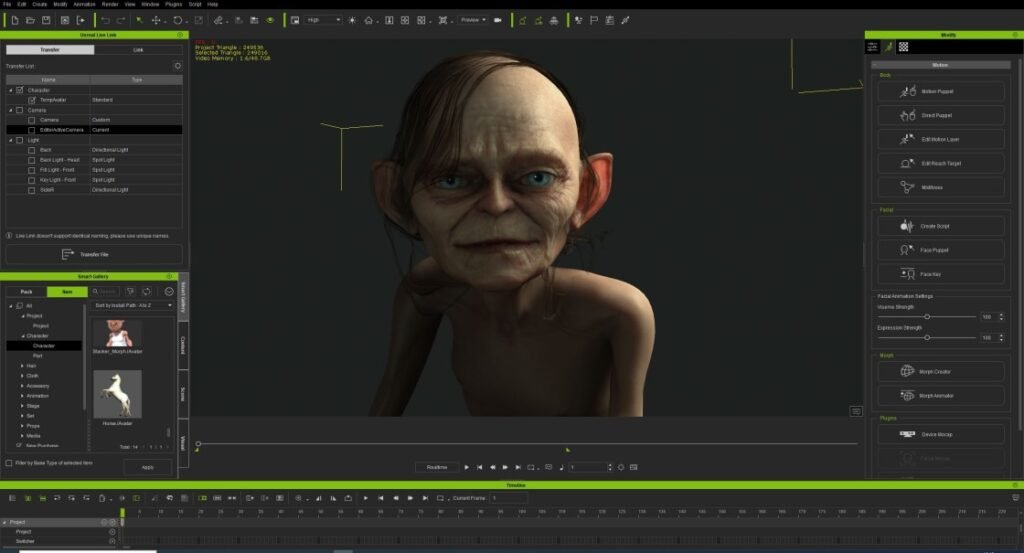 A piece of software that is the best of both worlds when it comes to 3D animation rendering and real-time playback.
The playback part is enabled by using a videogame engine for instant on-screen display. However, this software can still be easily used as full-on animation software. Creating all kinds of models is an effortless task with the morphable base mesh.
Every detail of the work panel is set to adapt to the user's style. Every 3D character is rigged and ready for animating and posing.
The simulated fabrics of the animations can be baked and used afterward in entirely new scenes. The keyword here is "self-sufficient".
Key features:
Controls that are easy to learn by playing with them.
Realistic facial and body deformation.
Custom clothing design.
Lots of interactive props.
Animatable lenses.
Great lighting systems with depth of field and shadows.
Real-time particle FX.
Pros:
Good integration with external programs.
Friendly to game developers.
It has an independent trading platform for content developers.
Royalty-free usage of all content created using the software.
Good overall support.
Cons:
Human IK might be too basic.
Faulty when it comes to non-standard characters.
Time-consuming.
7.modo


When it was designed, modo had professional VFX and design workers in mind. When we compare it to other 3D animation software, this one could be considered relatively easy to master.
Some of its best qualities are the polygon and subdivision surface modeling, and a good particle engine. Global changes can be made to the models at any given time. Macros can be created and easily applied to objects in order to speed up the workflow. Sculpting tools are also available.
Some of the features might seem appealing even to 2D animators. Overall, modo could serve right a large group of people as their main go-to 3D animation software.
Key features:
Great navigation and modeling user experience.
Makes good use of toggling hotkeys.
Friendly with CAD software.
Good for visualization.
Active and friendly community of people.
Pros:
Most innovative 3D/4D package.
Friendly to artists.
Quick for modeling.
Preferences are easy to manage.
Lots of shareability.
Many workarounds to reach solutions.
Cons:
Performance requires a lot of CPU power.
Little focus on GPU acceleration.
Rare texture paint tools updates.
Tweaks are required in order to achieve the best render quality.
8.Lightwave 3D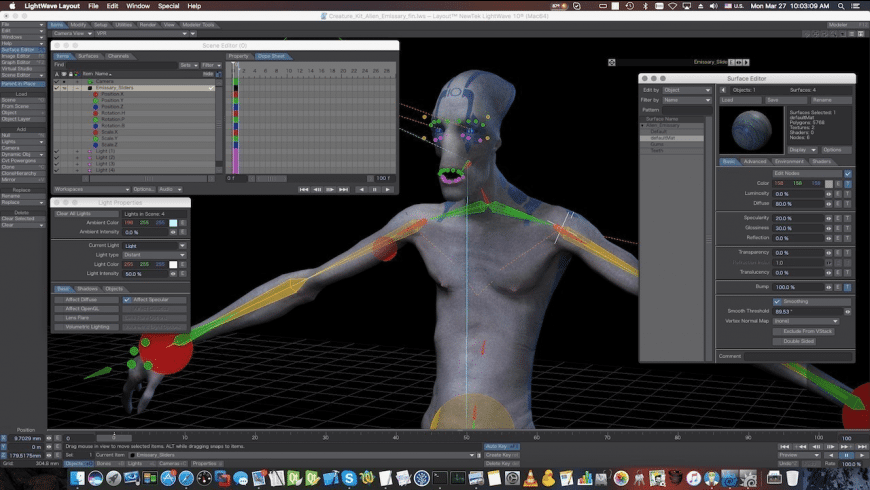 A good starting point for anybody who wants to learn 3D modeling. Its flexibility and ease of use make it friendly to beginners and intermediate users alike.
Proficient users can make use of more advanced techniques, so there is depth to be found even for knowledgeable creators. Lightwave 3D has been used in films, television, motion graphics, and digital matte painting all over the world.
It is being described as a software package that can be used for 3D images, both static and/or animated.
Programmers have the benefit of being able to expand the software's capabilities with an included SDK. These features offer Python, LScript, and C language.
Key features:
Great surfacing capabilities.
Fitting out of the box renderer.
The layout has a separate modeler from the scene editor.
Pros:
Fast modeling once you get the hang of it.
Direct links to other applications.
Easy to use materials and shaders.
Consistent updates.
Cons:
Long render times.
Difficult to solve issues.
Help function is not well optimized.
9.Houdini Apprentice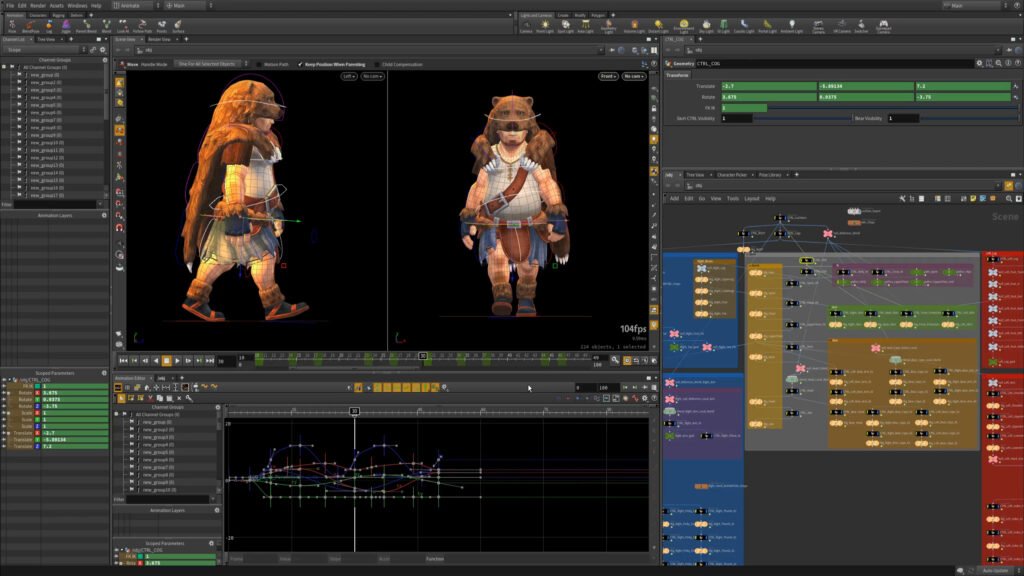 This one is very popular for game development and 3D animation. Everything is designed with a node-based workflow in mind. Models can easily be altered in order to achieve complex geometries at a stable level of quality only by changing individual parameters.
Creations can also be procedurally generated. This technique can cut in half the time spent working on individual shapes. Every procedurally-generated object can also be animated from the get-go.
Take, for example, crowd simulations that already have registered collision avoidance, terrain adaption, and even more. A sweet feature beloved by many is also the procedurally generated fluids and particle. This all adds up to a great note of realism.
Key features:
Node-based workflow.
Procedurally created assets.
All-around in-depth functionality.
Packing geometry.
Enabled reverse engineering.
Pros:
Easy to choose a different path of production.
Allows changes back in time.
User-friendly.
Powerful procedural asset generation.
Cons:
First-timers might need some time to accommodate.
Very demanding on the hardware.
10.Rhinoceros 3D


Rhinoceros is built upon the NURBS mathematical model. This means that it focuses on precise representations of curves and freeform surfaces in computer graphics as opposed to other software that address polygon-mesh applications.
Exact values can easily be extracted with the use of various tools. People might describe this program as an incredibly sophisticated drafting tool. The UX is unique and has proprietary commands.
This is very well received by the community of users. Design purposes are also fulfilled by visualizers, and even visualization can be achieved through rendering.
Key features:
Good command line.
Ease of use.
Intuitive interface.
Simple plugin implementation.
Great quality of output.
Pros:
Very useful within the ship building industry.
Can accept lots of types of file formats.
Simple plugin implementation.
Coordinates can be used instead of invented planes.
Cons:
Licensing requires physical media to acquire, which is then registered online.
Might not fully take advantage of the computer's power.
11.Substance Designer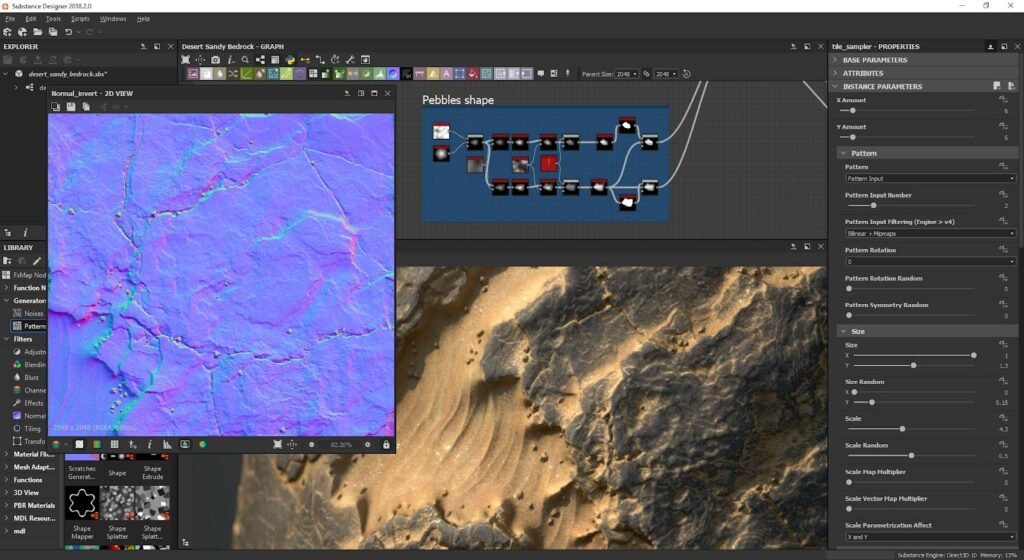 The industry beholds this software as the best when it comes to creating custom materials. Substance Designer gives the user complete authoring control.
You can design tileable textures and patterns and edit complete texture sets. Resources that are pre-made can be used from the get-go or materials that can be created from scratch in a non-destructive way. The scripting capabilities of the software are always expanding.
Materials can be edited instantly with the procedural non-linear workflow. In this case, full sets of textures are editable in real-time. As a result, tileable substance materials will be directly compatible with a renderer or a game engine.
Key features:
Access and modify sources of any filter.
Non-linear workflow.
Absolute editing control.
Able to create unique, versatile parametric materials.
Great previews and renders.
Able to create procedural noises.
Pros:
Useable for any industry.
Easily integrated with other rendering/animation software.
Ease of use when it comes to textures and patterns.
Easily editable.
Node-based creation system.
PBR based preview.
Cons:
Might be a little harder to get the hang of it.
UI can be unintuitive.
Crashes once in a while.
Free 3D Animation Software
1.Blender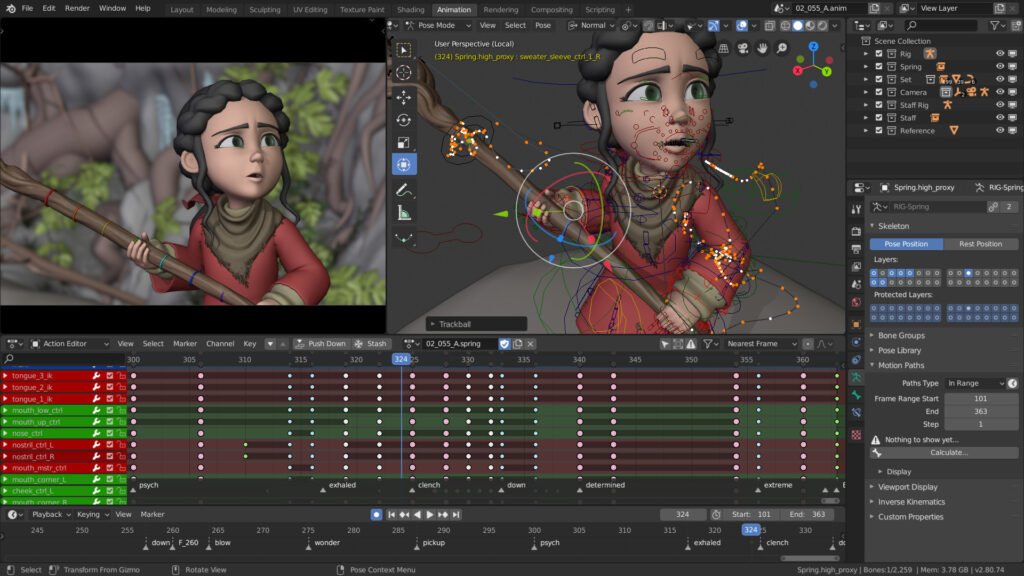 While this one might not be the most popular choice for a number of people, it is still a powerful 3D application. Blender can easily be regarded as a great way of creating assets.
Not to mention the fact that it is entirely free. This software is especially beloved by indie game developers and hobbyists.
So, if you are thinking about starting your 3D creative journey, this one might be the best suitable option. It's very intuitive and easy to understand. The workflow is never a problem.
Amazingly enough, it also has a built-in game engine. Of course, it is not a top tier level engine, but it's still usable for a lot of instances. If you want to prototype some ideas and see them in action, Blender is the choice for you.
Key features:
Allows traditional 2D drawings and animations over 3D props.
Great real-time rendering results.
Benefits from updates.
Shows the dimension of meshes in human-readable units.
Pros:
Does all the general 3D modeling and texturing.
Has good keyboard shortcuts.
Great skin modifier feature.
Lots of add-ons.
Integration of the Evee render engine.
Cons:
Steep learning curve.
Very cluttered menus.
Complicated selection system and extrusion tool.
2.Daz Studio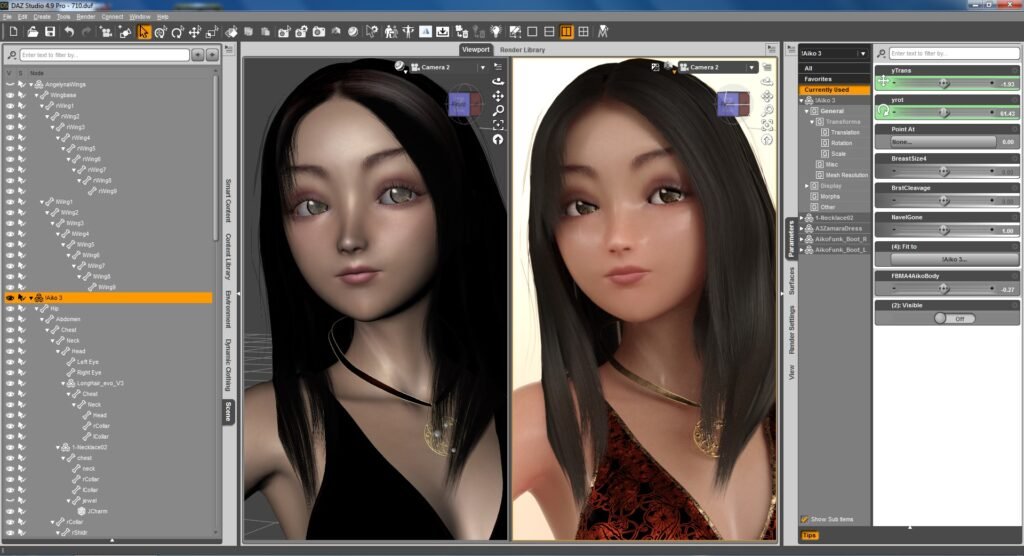 Daz Studio is a great 3D creation and rendering software. It helps your propel your imagination in palpable creations. It is used for image and video purposes alike.
There are two available engines inside it: the 3Delight render engine, and the Iray render engine. Everything included is shipped as a free package. A variety of purchasable add-ons and plugins from various vendors and companies, so capabilities can be further expanded.
Registration is required for the full usage of the product, as is one of the most versatile 3D creation programs.
Key features:
Very rich in features.
Good for artists.
Platform for creating detailed characters.
Ease of use.
Pros:
Realistic character production.
All-around modeling and rendering.
Motion capabilities.
Cons:
Small community.
Might be hard to find some add-ons.
What 3D Animation Software Should I Learn?
When you are first starting to work in the 3D creative industry, it might seem a bit like a handful. There are lots of potent software choices that are just waiting to be tried by new users like you. First of all, you need to have a somewhat accurate understanding of what you want to achieve through this technology.
Even though the 3D animation work field is extremely large, there is a huge number of subdivisions that are very specific and important. You might want and be able to do all of them, but that tends to be a rare feat. Most people focus on just a few of the sectors, and that is natural.
You need to become an expert on a few things, and not just a little knowledgeable on a lot of things. Starting things easy, we recommend trying 3DS Max and Cinema 4D as they have extremely in-depth features.
We understand that a steep learning curve might pose a problem, but that is just a wall that has to be broken through.
What Is the Easiest 3D Software to Learn?
If you feel like you just want to dip your feet in the water just to see how it feels, you need to choose an adequate software.
We recommend TinkerCAD! The interface is very user-friendly and has lots of educational resources. This is a valid point for people who had no 3D experience beforehand, so you will be sure that you started at the very beginning.
This program will teach you all the basics required in order to move on to more complex projects.
You can even design, program, and simulate electronic assemblies, as well as making use of lines of code to generate 3D objects.
Last but not least, this educational piece is also free, so you have absolutely no reason at all to wait before trying.
What Is the Best Free 3D Software?
There will always be a pinch of subjectivity in this matter. Some people just are inclined towards software more than others, but we tried to be as objective as possible.
Considering all this, we recommend Blender!
This software takes it all on and offers a wide variety of functions. You will never really feel like you are using something less than a premium product. It has constant updates and an ever active community.
Advanced features let you create quick dynamic simulations, full on animations, great 3D renders, and other industry requirements.
In order to see what can of amazing projects can be done with this application, search for a few videos so that his way, you can see the live action.
All the essential skills required to advance further can be learned while using Blender. After this, you will be able to conquer any other software.